*José Francisco López moved his illicit businesses to Honduras from Nicaragua, where he is protected by Nicaraguan President Daniel Ortega and Honduran President Juan Orlando Hernández.
**The companies that the Nicaraguan would direct in his country were sanctioned by the United States for their connection to the Venezuelan company, PDVSA, which, according to the United States, dedicates itself to money laundering activities.
---
Expediente Público
A Nicaraguan national closed his businesses in Nicaragua and El Salvador and left for Honduras to continue his illicit activities, including alleged money laundering. His name is José Francisco "Chico" López, an individual designated by the United States in its list of corrupt individuals known as the Magnitsky Act. To avoid US sanctions, he arrived on Honduran soil where he would create various companies and an affiliate of ALBA in Honduras.
"Chico" López, a close and trusted ally of the Nicaraguan President Daniel Ortega, supports the Bolivarian Alternative for the Americas and the Caribbean (ALBA), which was pushed forward by the Venezuelan government of Hugo Chávez.
The affiliates of the new ALBA which operates in Honduras are a product of the Porfirio Lobo Sosa government (2010-2014) and the President of the National Congress during that period, Juan Orlando Hernández Alvarado, sitting President of Honduras for two consecutive terms.
The Front Man Makes Moves in Nicaragua
José Francisco López, according to records, is a man who likes being close to powerful people. In Nicaragua, "Chico" López has been the "pana" (friend) and front man for President Daniel Ortega, who appointed him as Treasurer of the Sandinista National Liberation Front (FSLN).
Within the FSLN, "Chico" López's earned his reputation as the "errand guy" but was also known for his ability to scale the ranks and gain access to key institutions, despite his being an upstart. His closeness to Sandinista power led him to become Vice President of ALBA Petróleos de Nicaragua (ALBA Oil of Nicaragua or ALBANISA, the Spanish abbreviation) and President of Petróleos de Nicaragua (Nicaraguan Oil or PETRONIC). He also worked for the Empresa Nicaragüense de Minas (Nicaraguan Mining Company or ENIMINAS).
Everything was going according to plan in the land of Rubén Darío, where he founded more than 20 companies, until the United States sanctioned him on July 5, 2018, under the Magnitsky Act.
The Magnitsky Act allows the United States to sanction foreign nationals suspected of human rights violations or corruption at a larger scale. It was approved in 2012 and expanded in 2016 to include any individual, regardless of his or her nationality, such as legal entities, and its powers include denying US entry to those on the list and freezing assets on American soil, among the negation of other rights such as universal justice.
For "Chico" López, being included in the Magnitsky list meant his financial death, having many financial resources in his possession. According to investigations that incriminate him in the world of large-scale corruption, there is evidence against "Chico" López for embezzlement, abuse of power, making irregular loans, conducting secret businesses, and providing millionaire contracts.
López ignored that, for a time, his companies in Nicaragua have been under the United States' watch. Why? They are part of a network of corruption. For example, ALBA Alimentos de Nicaragua (ALBA Food of Nicaragua or ALBALINISA) is a subsidiary of the state-run Venezuelan Oil Company (PDVSA), which dedicates its activities to money laundering, according to the Office on Foreign Assets Control (OFAC) of the US Treasury.
In Central America, the conglomerate ALBA is part of the global criminal network of PDVSA. The network joins front companies, political leaders in the region, economic elites, and criminal organizations that cover up money laundered from Venezuela.
The first thing that the United States did was freeze López's assets in Nicaragua. After he was prohibited from pursuing business operations with PDVSA and the ALBA conglomerate in Central America, he was accused of "utilizing his position for his own enrichment and that of his family through companies in his possession which he used to gain contracts with the government."
With the United States on his heels in Nicaraguan territory, "Chico" López had no other option than to "take his business to another country." And, in Honduras, the government of Juan Orlando Hernández received him with open arms.
Read: MACCIH, AN UNFINISHED "HONDURAN MODEL" FOR FIGHTING CORRUPTION
Dealings with the Infamous Compadre in Honduras
In Honduras, as in Nicaragua, "Chico" López seems to do and undo as he pleases. His ties with powerful characters in the Central American country have permitted him to work under the preface of impunity and extend his corrupt reach wherever he goes.
Documents unearthed by Expediente Público show that the ALBA subsidiary set up by López in Honduras continues to operate unhindered since 2013.
And US sanctions? One does not have to have a big imagination to guess how he avoids them.
With sponsorship from the government of Juan Orlando Hernández, López has created companies at full force. He first used his power of attorney as the legal representative of ALBALINISA to establish, on August 1, 2013, ALBA Alimentos Honduras-Nicaragua (Food of Honduras and Nicaragua or ALBANIHSA) in San Pedro Sula, located in northern Honduras, the country's industrial capital.
Subsequently, López and the Honduran businessman Gerardo Arcángel Meraz Puerto joined Comercializadora Centroamericana (the Central America Trading Company or COMERCAH). This business operation is recorded in File 318 of the San Pedro Sula Commercial Registry.


After raising public opinion in 2007 for sequestering a child for whom he asked a ransom payment of 20 million lempiras, some US$8.3 million at the current exchange rate, Meraz Puerto has maintained a low profile.
At the time, Meraz Puerto claimed to own a company called HONDUCHEM that he built with his family 17 years ago. The company lists his son as administrator, according to brief press reports on the matter.
With the goal of making the Nicaraguan company ALBALINISA the shareholder of 60% of the Honduran company ALBANIHSA, Meraz Puerto used his bank account with Petróleos Americanos de Honduras (American Oil of Honduras).
The existence of ALBANIHSA at first sight is normal, conducting "lawful activities, such as the operations of agricultural, livestock, pasture, and commercial businesses, along with industrial production in all of its forms," according to the commercial registry.
However, ALBANIHSA is just one in the long list of companies owned by Nicaraguan conglomerate ALBALINISA. Through the corporation COMERCAH, the Nicaraguan company created Petrocaribe of Honduras, Comercializadora Agrícola de Honduras (Agricultural Trading Company of Honduras), Mercados Caribeños Varios de Honduras, Amerigas de Honduras, Inerforte SA, GM Seguros e Inversiones Financieras (GM Insurance and Financial Investment), Castilla Energy SA de CV, and Castilla Refinería SA.
Gerardo Arcángel Meraz Puerto is partner in all the companies registered after 2013. And that is not a coincidence.
You may be interested in: Investigation Exposes Nicaraguan Army's Participation in 2018 Repression
Associates (and Relatives) in Crime
If "Chico" López is protected by Daniel Ortega in Nicaragua, Gerardo Arcángel Meraz seems to be the "hidden protégé" of President Hernández in Honduras.
"Chico" López and his associate Gerardo Arcángel Meraz Puerto, originally from the Department of Olancho, are two direct beneficiaries of these types of presidential alliances sealed through companies created in Honduras. Less prominent than López in Nicaragua, Meraz tries to be more discreet but just as effective as his partner.
The Honduran government appointed him President of the Regional Development Council of Valle de Sula, Honduras for the 2020-2022 period. This Council has the responsibility of generating and encouraging an integrative plan for development following hurricanes Eta and Iota which severely hit that sector and encouraged the search for anti-flood options.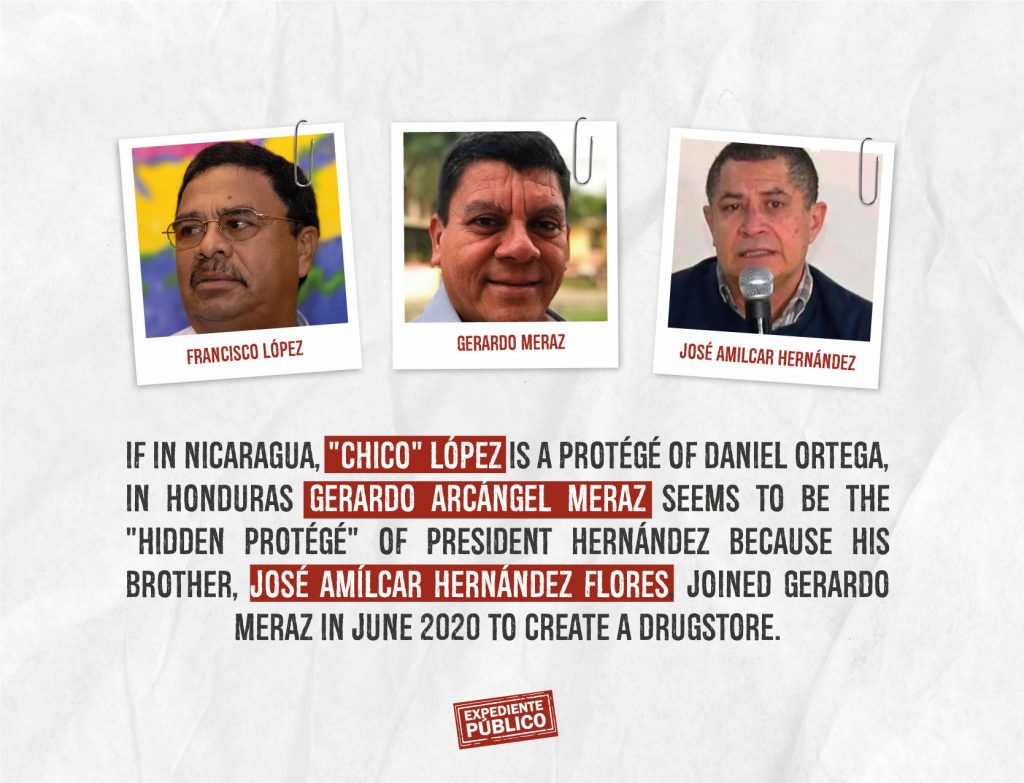 One of the duties entrusted to Meraz as President of the Council, is the construction of dams and agricultural development, among other actions. Meraz represents this Council before the Villanueva Chamber of Commerce and Industry. He is also president of American Petroleum and Amerigas.
This low-profile Honduran businessman is proprietor of 24 companies, including the family of President Juan Orlando Hernández Alvarado among his partners.
The President's brother, José Amílcar Hernández Flores who, because of an accident, was forced to retire from his military career is one of these partners. Taking advantage of the COVID-19 pandemic, Meraz and José Amílcar Hernández formed the company Droguería y Laboratorio Sociedad de Responsabilidad Limitada (Drugstore and Laboratory PLC or Drolab SA de CV) in June of 2020.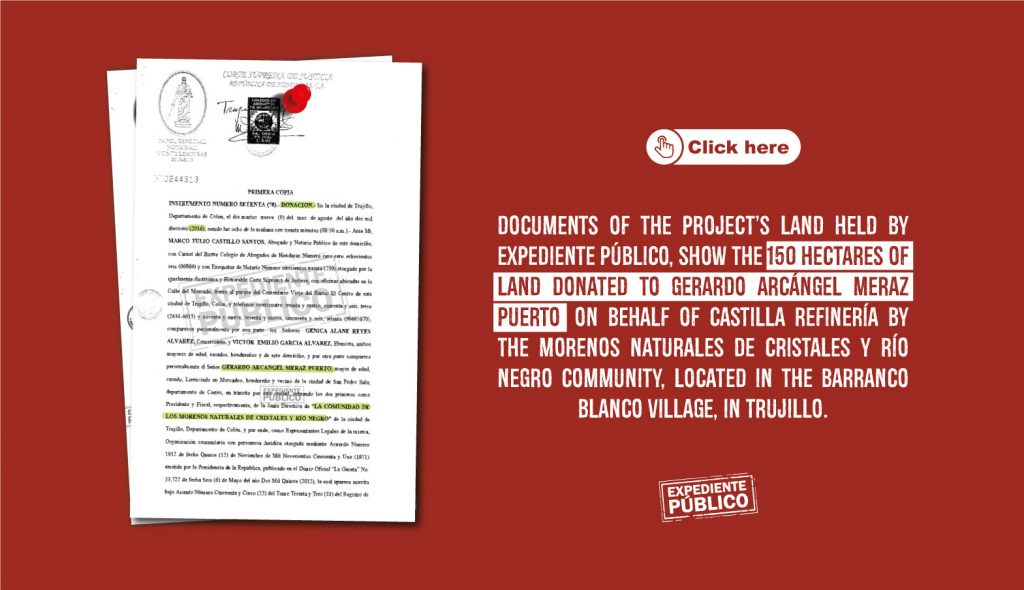 Curiously, Drolab SA de CV has the same address as ALBANIHSA, "Chico" López's company, located at El Progreso, Yoro, Kilometer 20.5, Coowle Sector, Plantel de Agua Viva, Northern Honduras.
Drolab SA de CV is just another one of the companies that José Amílcar Hernández Flores has created during his brother's presidency. He is partner with President Hernández in another firm: Servicios de Seguridad Lempira (Lempira Security Services or SERSEL), which has generated state contracts worth millions.
By 2019, SERSEL had been the government favorite with 38 contracts worth US$12.6 million. These had been awarded through tenders from several state institutions.
The relation between the President of Honduras and SERSEL were evidenced in the research investigation, Sersel, la Seguridad Favorita del Gobierno, published exclusively by Expediente Púbico on May 17, 2019.
The List of Corrupt Individuals
Being included on the OFAC list means the freezing of an individual's US assets and the prohibition of US companies and banks from doing business with the sanctioned individual.
OFAC is an office of the United States Department of the Treasury that identifies countries, terrorists, and drug traffickers it deems sanctionable under US law.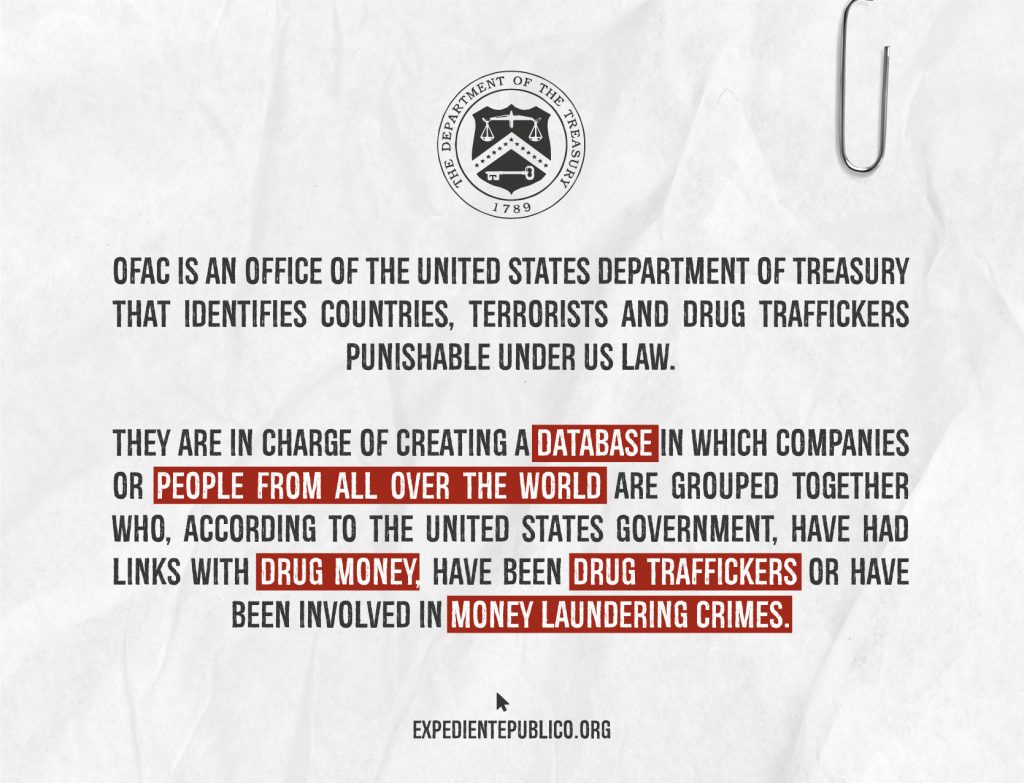 OFAC oversees the database in which companies and individuals all over the world are grouped together. These designated entities, according to the US government, have had links to drug trafficking, have been drug traffickers, or have been involved in money laundering activities.
Appearing on the list implicates one's death in the commercial, banking, and economic sectors. In other countries, it is very common to see the closure of the accounts of those considered to be of high risk and their associates.
The US Department of the Treasury prohibits all US persons or companies conduct business with a sanctioned entity. Another implication of appearing on the sanctions list is the revocation of American visa privileges.
See also: The military footprint in the Nicaraguan Repression
The Rosenthal Case
On October 7, 2015, the US Department of the Treasury designated three members of the Rosenthal family for money laundering and ordered that their transactions be frozen in key financial companies.
Three days after the Rosenthals were designated on the OFAC blacklist of corrupt individuals, Honduran authorities immediately seized their assets and companies.
The individuals were Yani Benjamín Rosenthal Hidalgo, Jaime Rosenthal Oliva, and Yankel Antonio Rosenthal Coello. This last family member was detained in Miami and immediately sent to the Florida Federal Court.
His case was transferred to New York, where he was imprisoned for 36 months under charges of drug trafficking and money laundering. Currently, he is the presidential candidate for the Liberal Party of Honduras.
OFAC included seven key companies of the Rosenthals, not to mention their principal business with headquarters in Panama: Inversiones Continental SA de CV, known as Grupo Continental. Grupo Continental is the umbrella company for a conglomerate of businesses in Honduras involved in banking activities, financial services, real estate, agriculture, tourism, and media.
Now, new connections have been discovered by Expediente Público, because of the incorporation of "Chico" Lopez's companies in Honduras, which has put the country, once again, on the OFAC watchlist due to sanctions on López in Nicaragua and Honduran authorities' complacency in allowing him, along with partners and family members of President Juan Orlando Hernández, to continue illicit activities in the country with complete impunity.
In 2004, the Presidents of Venezuela and Cuba Hugo Chávez and Fidel Castro formed ALBA, in response to the Free Trade Area of the Americas (ALCA), which was unsuccessfully promoted by the United States. Among the purposes of ALBA was to promote a "just", "complementary", and "solidary" free trade agreement for member states.
It also created "Grannacionales" or "multinational conglomerates" like ALBA Alimentos and, in 2005, Venezuela announced the creation of Petrocaribe. Honduras joined ALBA in 2008 but left in 2010, following the coup d'état of then President Manuel Zelaya.
The mechanisms used to form ALBA have been disfigured over time, and the United States considers that, under these figures, money laundering from illicit activities, including corruption, has been encouraged.
Under the protection and umbrella of ALBA, ALBANISA of Nicaragua and ALBA Petróleo in El Salvador have been created. In Nicaragua, the incorporation followed the visit of the late Hugo Chávez and the inauguration of Daniel Ortega. ALBANISA was formed with 51% of PDVSA's shares and 49% shares from Petronic.
In January of 2019, the United States announced that PDVSA had been added to the OFAC list under the argument that, for years, the Venezuelan state-led oil company had been a vehicle of corruption where illicit schemes were designed to benefit Venezuelan officials and corrupt businessmen.
In March of the same year, these sanctions were extended to two of PDVSA's subsidiaries in Central America: ALBA Petróleos in El Salvador and ALBANISA in Nicaragua, in a clear message aimed at pressuring the Venezuelan regime's allies abroad.
These sanctions were followed by the designation of companies such as Bancorp, DNP Petronic, and Caruna, who were considered by the United States to be part of the network of Venezuelan money laundering in Nicaragua.
The ALBA companies have not had much luck in terms of their incorporation in other countries, with exception to Honduras, where one of its principal promoters, "Chico" López has managed to set up a network of businesses under the protection of Hernández's government, his low-profile partners, and his familial circle.
In Honduras, the ALBA businesses and those of José Francisco "Chico" López continue to operate without restrictions.
Tomorrow: Refinery in Colón: A Dream Cut Short for "Chico" López Who Arrived in Honduras with His Assets