*Venezuela, Brazil, Ecuador, and Argentina are the countries that have most benefited from Chinese loans, according to the Interamerican Dialogue.
**Analysts Evan Ellis and Juan Pablo Cardenal value how Central America's alliance with China has worked and what China is looking for in the region.
***In 2021, exports from China to the region were estimated at US$229.009 million, while Latin American exports to China reached only US$22.582 million.
---
Expediente Público
With the main interest of China being to keep Taiwan marginalized in the diplomatic arena and consolidate its role as a world power that "rivals" the United States, China uses the economic and social development of its partners in the Latin American region through cooperation and direct investment as currency.
The Chinese regime, which ranks as the second largest trading partner for the region, has granted its diplomatic backing and absolute support to the areas of trade, investment, loan concessions, infrastructure, and cooperation in Latin American countries. But its conditions have not been the same accross the board, depending on what each country has to offer.
Since 2005, according to the Center of Analysis at the Inter-American Dialogue, China granted more than US$136 billion in sovereign and commercial loans to countries and companies in Latin America and the Caribbean.
The main beneficiaries of commercial loans are countries like Argentina and Brazil. Regarding sovereign loans, the majority have gone to Venezuela, Brazil, Ecuador, and Argentina for construction and development projects.
The last update to the database at the Center of Analysis reflected that China granted three new projects worth US$813 million to Brazil, Barbados, and Guyana to execute social projects, after it did not issue a single loan in 2020.
Subscribe to the Public Record newsletter and receive more information.
China loans money to countries in debt
Margarent Myers, director of the Asia and Latin America Program at the Inter-American Dialogue, explained to Expediente Público that Chinese policy in general has offered loans to countries in the region that have "high levels of external debt" or have had problems with international institutions at some point.
"It was something that was welcomed by governments for many years because they did not have access to loans and needed funds particularly to move forward on key projects and interests. Now, we see that these countries have run into big problems in some cases," said Myers.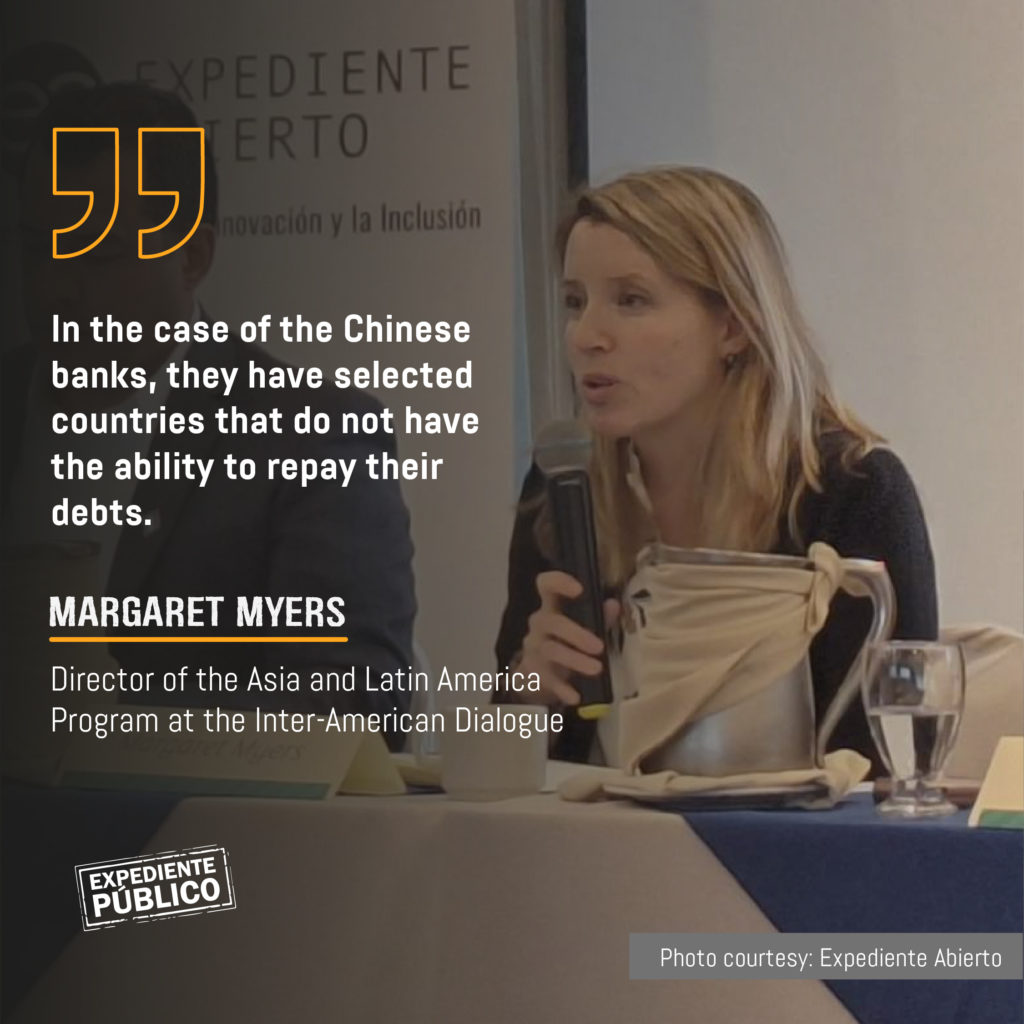 China's multi-million dollar loans lead to debt problems for countries who try to renegotiate and end up taking on new commitments that create large problems in the short term.
"Ecuador is one of these countries. Last year, they tried to renegotiate the terms of credit crunches. While they were successful, in five years, they are going to have new problems as it was not a solution to the problem," he said.
Myers added that "Argentina has a lot of debt, and it is something that they are going to have to repay and renegotiate. Venezuela still owes China US$17 billion in the form of petroleum. It is going to be very difficult for these countries to find a solution."
Read: Top Secret, así será la relación de Huawei con la Empresa Hondureña de Telecomunicaciones
China and its interests
Juan Pablo Cardenal, journalist and researcher who specializes in China, told Expediente Público that during the last 20 years, the country has become the main partner for the majority of Latin American countries.
He cites China's relationship with Brazil, Peru, Argentina, Chile, and Ecuador, along with the relationship that the Asian giant is beginning to strengthen with Colombia, Mexico, and Bolivia. While China's role in the region is "huge," it is also unequal, he says.
The interests that forged these alliances, says Cardenal, are tied to the attainment of natural resources, petroleum, minerals in exchange for trade, loan concessions, projects to finance infrastructure, and investment from China.
China is only interested in exploiting natural resources
But the expert explains that with time, the pattern began to change since China can adquire strategic natural resources like petroleum from the Middle East or Russia, instead of buying it in Ecuador.
"For China, Latin America's natural resources are still relevent, particularly its strategic natural resources, such as copper, which is strategic for them, but also lithium and the region's foodstuffs. What China hopes to do in Latin America is guarantee its food security," says Cardenal.
Read: Muelle turístico en El Salvador, US$24 millones de secretos en inversión china
In Latin America and the Caribbean, Foreign Direct Investment (FDI) in 2021 rose by 40.7%, compared with 2020, where FDI reached US$142.794 million, according to an annual report published by the Investments and Business Strategies Unit of the Productive Business Development Division of the Economic Commission for Latin America and the Caribbean (CEPAL).
According to the study, Brazil and Mexico are receiving countries of FDI in the region.
Also of interest: El guión de China en el mundo: corrupción, influencia económica y política According to the Economic System for Latin America and the Caribbean, trade between Latin America and the China reached US$451.591 million in 2021, citing data from
However, the Economic Commission for Latin America and the Caribbean (CEPAL) cites US$322 million in investment flows from China to the region.
Chinese exports to Latin America were US$229.009 million that the same year, while Latin American exports to China reached only US$22.582 million, according to statistics from the Chinese customs agency.
What is happening in Central America?
In the case of Central America, the partnership with China has benefitted Costa Rica, Panama, El Salvador, and Honduras in terms of projects and programs in the areas of education, health, energy, communications, agriculture, mining, and banking and financial services, according to tracking carried out by Expediente Público's observatory on the reach of these relations in the region.
However, for the experts, the results of these diplomatic relations are not what countries had hoped.
Central America, which is an important region for the United States, has become relevant for the People's Republic of China, which, since 2007, has worked toward diplomatic relations.
Read: Cooperación militar china vendría cargada de «riesgos críticos»
Promises: What China offers Central America
Myers believes that China currently has more influence in South America than in any other part of the Western Hemisphere.
"We have seen an interest in Central America but more with respect to the competition between China and Taiwan in the region (…) In commercial terms, such as investment, capital flows, and financing, we do not see almost any interest in Central America," according to the expert at the Inter-American Dialogue.
Costa Rica was the first country to recognize China in 2007, and Honduras was the most recent, establishing diplomatic relations with the Asian giant on March 26, 2023, a decision that ended its relationship with Taiwan.
Despite the intentions of China, Guatemala has expressed its complete support for the Republic of Taiwan and is the only country in Central America that does not recognize China.
Has Costa Rica benefited from China?
Evan Ellis, research professor in Latin American Studies at the Strategic Studies Institute of the US Army War College pointed out to Expediente Público that in more than a decade of relations with China, beginning in 2007, Costa Rica has not advanced much.
He also mentioned that this relationship spurred hope that traditional products like fruit and coffee would be exported in larger quantities to China. However, Costa Rica took advantage of the expansion of its exports to China as a result of the renewal of the production of Intel chips in 2021, reaching US$402 million in 2022.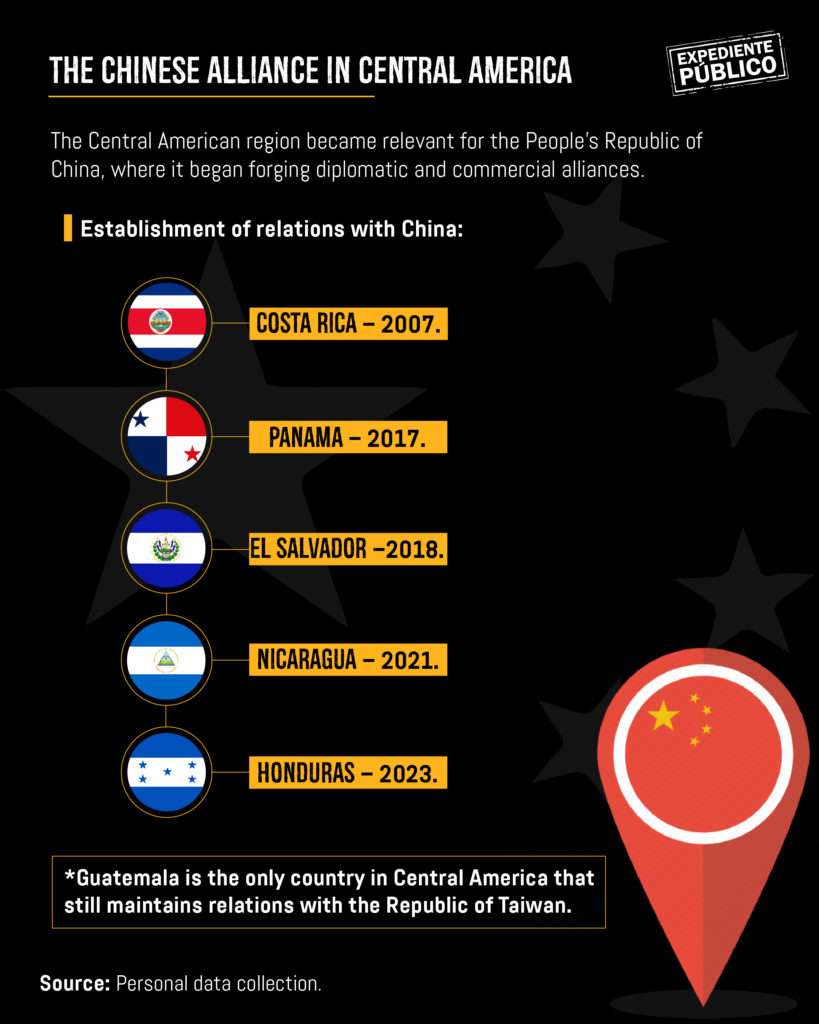 Costa Rican exports have represented important progress in relations between the two countries, and according to the Costa Rican Ministry on Foreign Trade, resulted in US$308 million in 2021. Medical equipment, citrus fruits, hides and leathers, meat and beef cuts, copper for recycling, coffee, and plugs and integrated circuits were the primary exports.
Also read: Honduras «se vende al mejor postor» al romper con Taiwán y preferir a China
Costa Rica is at a disadvantage
However, the Central American country faces a huge commercial deficit with China, with imports that reached US$2.932 million in 2021, according to data from Costa Rica's Foreign Trade Promotion Agency.
The expert ensures that Central American countries are not capable of sophisticatedly promoting a national framework to get their products into the Chinese market as well as resources or production volumes that could captivate the interest of Chinese buyers.
This adds to the challenge that China can aquire Central American products in neighboring countries to avoid high import costs.
While the panorama is discouraging and limited, the expert recognizes that there are special circumstances where countries have been successful with China, taking advantage of the situation and opportunity.
"There are data that show advances in trade, but it is almost always because of the influx of Chinese products and not benefits for local producers," he adds.
What is China looking for?
Researcher Cardenal also recognizes that the expectations that were had with regard to Chinese relations with Costa Rica have been somewhat frustrated. He adds that, in general, a Chinese presence in Central America does not represent a presence as important as the one that it has in South America.
"We cannot think that China is here to help Latin America, but rather, it has a presence in the region for its own interests," he points out.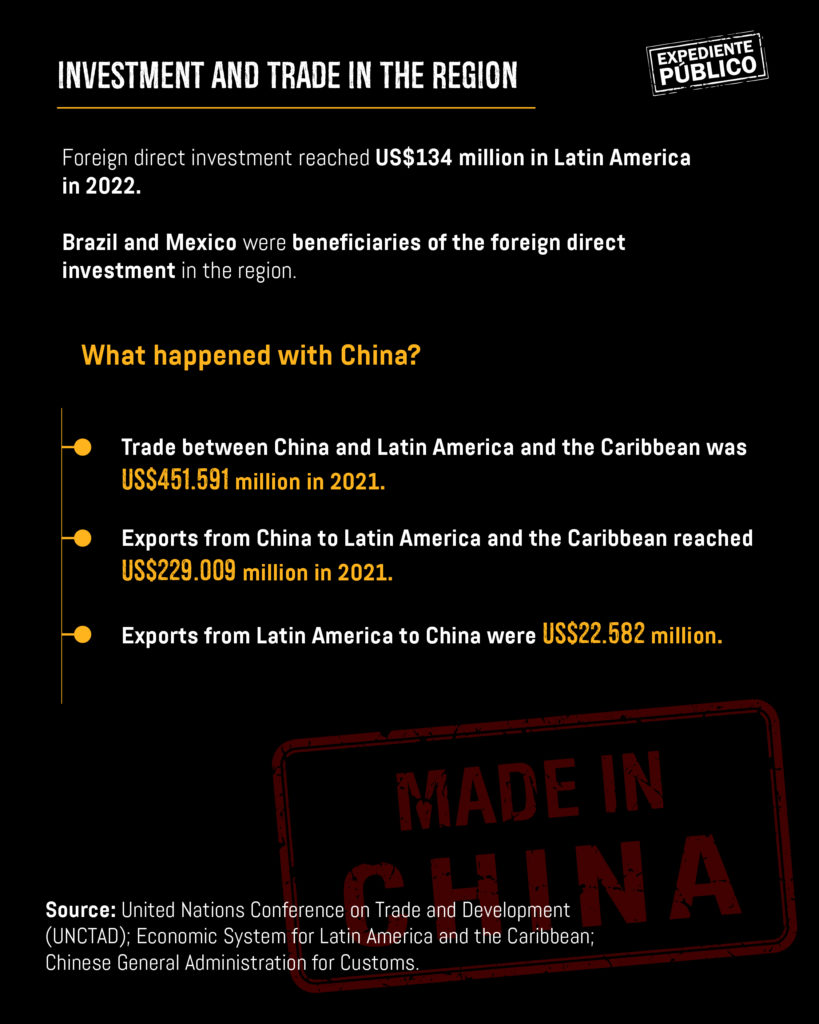 Regarding the motives that brought China to seek alliances with Central American countries, Cardenal says that the main reason was to isolate Taiwan diplomatically, since the region did not have many natural resoureces to offer China.
Not all is lost
Now, with its objective almost reached, the Asian giant has interests in Central America to maintain its allies in its diplomatic and political orbit so that they guarantee China their vote before the United Nations and international organizations.
Also read: China, el gigante asiático que podría aplastar a la economía de El Salvador
Even still, he points out that Central America is a market, albeit a small one.
"China offers the construction of infrastructure at a much more economical price and faster pace, which makes the country a traditional investor, creates business opportunities, and explains why it has a place in the region," he summarizes.
The expert warns that some countries in the Latin American region have begun to give off the impression that they will become dependent on China, which is something that they should avoid.
"There are opportunities with China: that is undeniable. Because of its size, it is still the second largest economy in the world. However, there are many risks, and you have to know what they are. Sometimes, these risks are ignored, leaving a discourse around the opportunities that China offers," he says.