*The young woman from Managua, who was detained on November 6, 2021, was accused of "betraying her country," as established by the Law of Cybercrimes and Law 1055 under which other political opponents have been jailed in the Central American country.
**As a prisoner, she shared a cell with activists Samantha Jirón and Evelyn Pinto. All former prisoners have been in the United States since February 9, 2023, after being exiled from Nicaragua by the government.
---
Expediente Público
She is not Cristiana Chamorro. Her name did not make headlines. Her family did not appear in the national or international media. But just like the former presidential candidate, Alejandra Pérez González is one of the 222 political prisoners who were arbitrarily imprisoned in Nicaragua and banished by Daniel Ortega's regime to the United States. Her crime, she told Expediente Público, was speaking out on social media.
"The reason for which they detained me was that I published some images on social media asking for and applauding sanctions. They detained me on November 6, 2021, in District Two (of the Police) in Managua. I was there for a month, in that jail, without being able to talk to my mother and brothers or anyone else in my family," said Pérez González.
In 2021, the regime launched a manhunt against presidential pre-candidates and members of the Nicaraguan opposition prior to the November 7 general elections, a process in which Ortega, according to Nicaragua's Supreme Electoral Council, was reelected for a fourth consecutive term in a process that constituted a malicious plan to end democracy.
This process was rejected by several countries and human rights organizations since it disrespected basic electoral norms and was done without supervision and was full of irregularities.
Subscribe to Expediente Público's newsletter and receive more information
Due to this situation, on November 15, 2021, the Office of Foreign Assets Control of the US Department of the Treasury imposed sanctions against the Public Prosecution Service of Nicaragua and nine officials in response to the farse of national elections.
Before being detained, Alejandra was studying the technical career of cashier's accounting. "They banished us from the country, and it is something that is completely violating," she added.
The trial and sentencing
After a month in the cells of Police District Two, she was transferred to the Comprehensive Penitentiary Establishment for Women (EPIM in Spanish), or "La Esperanza," a prison located in the municipality of Tipitapa, located to the north of the capital.
Keep reading: Así fue la "operación azul y blanco" para sacar de Nicaragua a los 22 expresos políticos
"In December of 2021 when they moved me to the EPIM, I was able to see my mother, and she arrived crying and sad because she had not seen me since I had been detained. I embraced her and asked her to be strong because God is in control of all things," remembered the young woman in exile.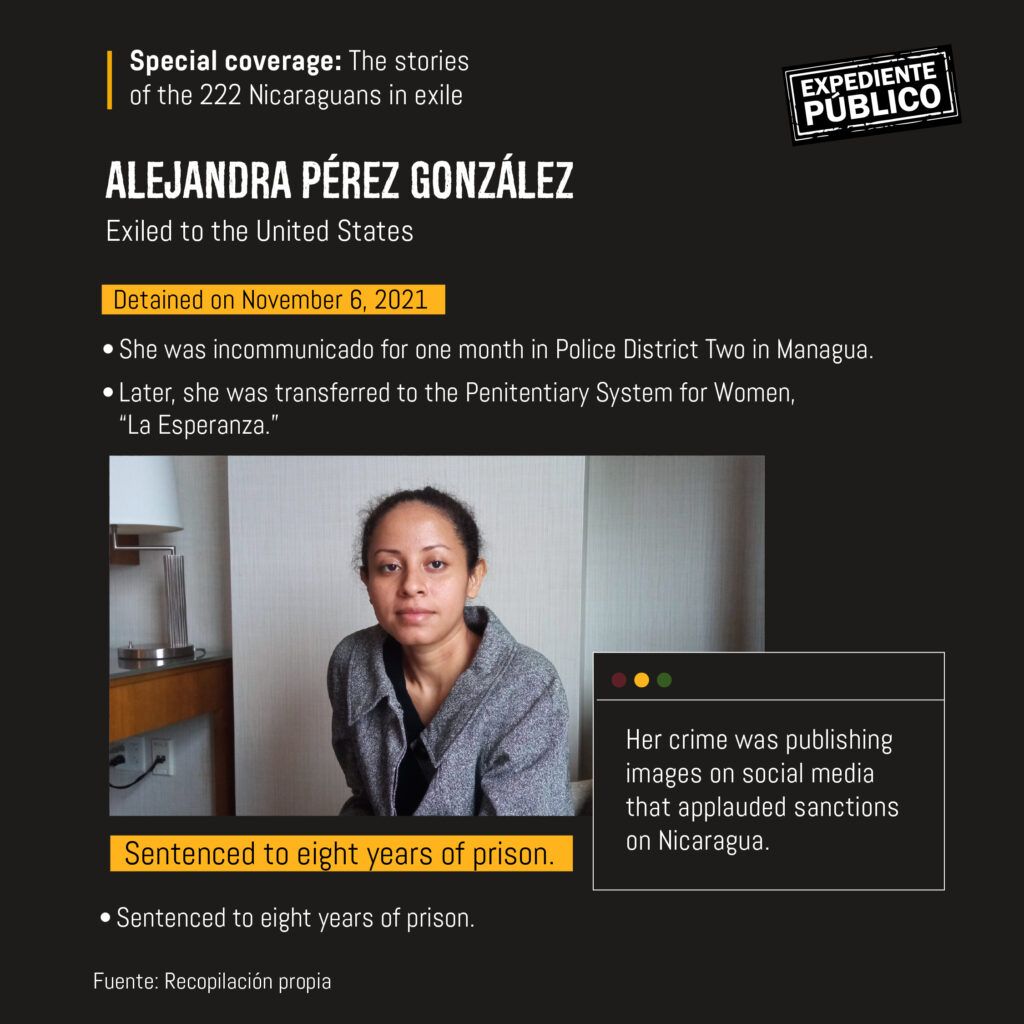 In "La Esperanza," she met and shared a maximum-security cell with two other well-known leaders of the Unidad Nacional Azul y Blanco (UNAB).
"I was in a cell with Samantha Jirón Padilla and Evelyn Pinto. The three of us were in that cell, and they kept us in there with the door bolted shut. We could not see outside and if we looked up at the window, they asked us what we were doing and what we were looking at and said that we had to get down, that it was forbidden to look out the window," said Pérez González.
During the trial, they declared her "guilty" and gave her eight years in prison. In Nicaragua, according to Law 1055, traitors are those who promote a "foreign insurrection" or other actions that are considered to undermine the homeland.
Her hope for democracy in Nicaragua
Alejandra Pérez González agrees that her release from prison was just as fast as that of the other political prisoners and occurred around midnight.
"A high-ranking official told me, 'Alejandra, get up and arrange your things; you are going to be transferred.' She let me get my things ready and take out what I could, but they were desperate. I saw that Mrs. Esperanza (Sánchez) was also getting her things ready and I asked myself, 'where will they take us?' When we left, they gave us civilian outfits and told us to get changed and hand in our uniforms because we were not going to need them anymore," remembered Pérez González.
Read: Celam condena la prisión contra monseñor Rolando Álvarez y la persecución a la Iglesia en Nicaragua
Before leaving the women's prison, Pérez González signed a document without knowing what it meant. "I had to sign it because those in charge make the rules; they believe that they rule the country. One day, I know that my country will be free and democratic, and I will return to my home country again," affirmed the former Nicaraguan prisoner.
The difficult news about exile
At dawn on February 9, at the Air Force Terminal of the Augusto C. Sandino Airport, Alejandra, just like the rest of the political prisoners, became aware that she would be exiled. It was there that she was informed of her trip to the United States.
"Many started crying because they did not want to leave their families. I felt bad because I was thinking about how I would leave my mother and my brothers alone. I was the only one who came to the US. My entire family stayed back in Nicaragua," said Alejandra.
As soon as she landed in the US, Alejandra was able to talk with her mother and tell her that she decided to travel for her "freedom."
Alejandra fears "some reprisal" from the regime against her family remaining in Nicaragua. "I am more afraid for my mother, who is the one who used to come to see me in prison," she said.
Her main challenge is becoming acclimated to the new country and finding employment in the US to avoid "crossing her arms" in response to the situation. Even still, she "always asks God to free Nicaragua."
The young woman in exile is one of many of the group of political prisoners that arrived in the US without any familial ties. Alejandra was, however, welcomed by a feminist organization in the state of Maryland.