*Relations with China have cooled during the Laurentino Cortizo administration due to strong criticism of infrastructure projects.
** The focus on democracy, the fight against corruption and protection of human rights opens a rift between China and Panama. 
---
Expediente Público
The opacity of the agreements signed between the People's Republic of China and Panama have characterized the bilateral relationship between the two countries since they established diplomatic relations in 2017, according to Alonso Illueca, an expert in international law and human rights.
"Chinese interests in Panama are varied, and one of the main issues that has colored the bilateral relationship has been the lack of transparency regarding the interests of the parties involved," said Illueca in an interview with Expediente Público, at a Washington DC forum on Chinese influence and interests, sponsored by the Center for Global Impact of the International Republican Institute.
Illueca, who is also part of the Panamanian chapter of Transparency International, recalled that once diplomatic relations had been established, a large number of bilateral agreements were signed; about 46, "which were initially secret agreements; they were not published in the press or the Official Gazette of Panama, nor by the Ministry of Foreign Affairs."
Following successful campaigns by civil society and interest groups that pressed for making transparent the background of how these diplomatic relations and the bilateral relationship were established, these agreements were published.
The result was a "before" and an "after" in the relationship, since those who analyze the issue both in the Republic of Panama and at the level of Latin America now had a more complete picture of Chinese investments and the presence of large companies such as the technological company Huawei and the Bank of China.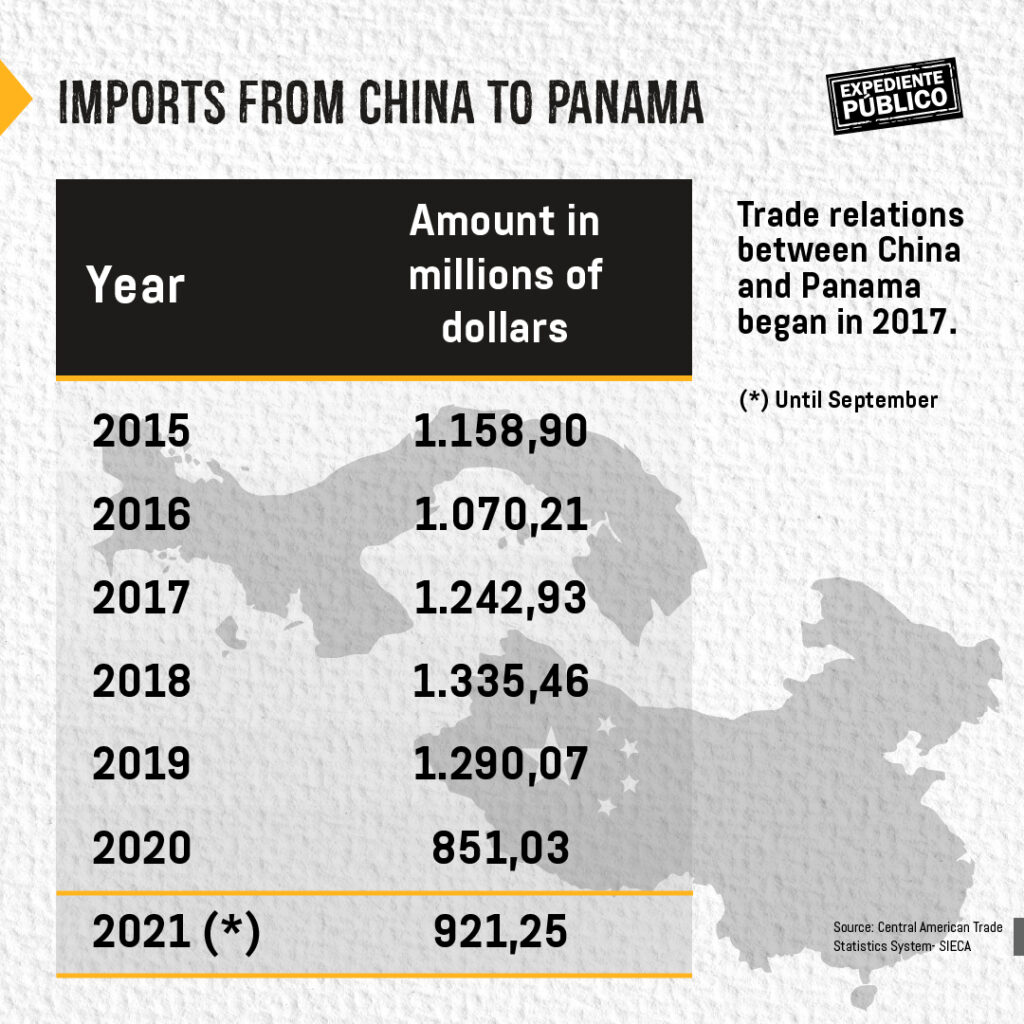 Read also: China happy to work with dictators and make corrupt deals, says US analyst
According to Illueca, "the Chinese presence is real and is not limited only to the economic sphere, but is also political, cultural and educational. This is manifested towards Panama, for example, by institutions such as the Confucius Center and also Center for Asian Strategic Studies of Panama. Moreover, it is quite nuanced, due to the relationship the current ruling party has with the Socialist International."
It was President Juan Carlos Varela who decided to break diplomatic relations with Taiwan in 2017 in favor of the People's Republic of China. According to Illueca, these relations have become "quite fluid," having included high-level visits; both by the Panamanian president to China and by Chinese president Xi Jinping to Panama.
Panama accounts for half of Central America's exports to China and only a tenth of imports. Since 2019, trade statistics have shown an export rush of metals from Panama to China. This has caused a considerable reduction in the trade imbalance, although it still remains in China's favor.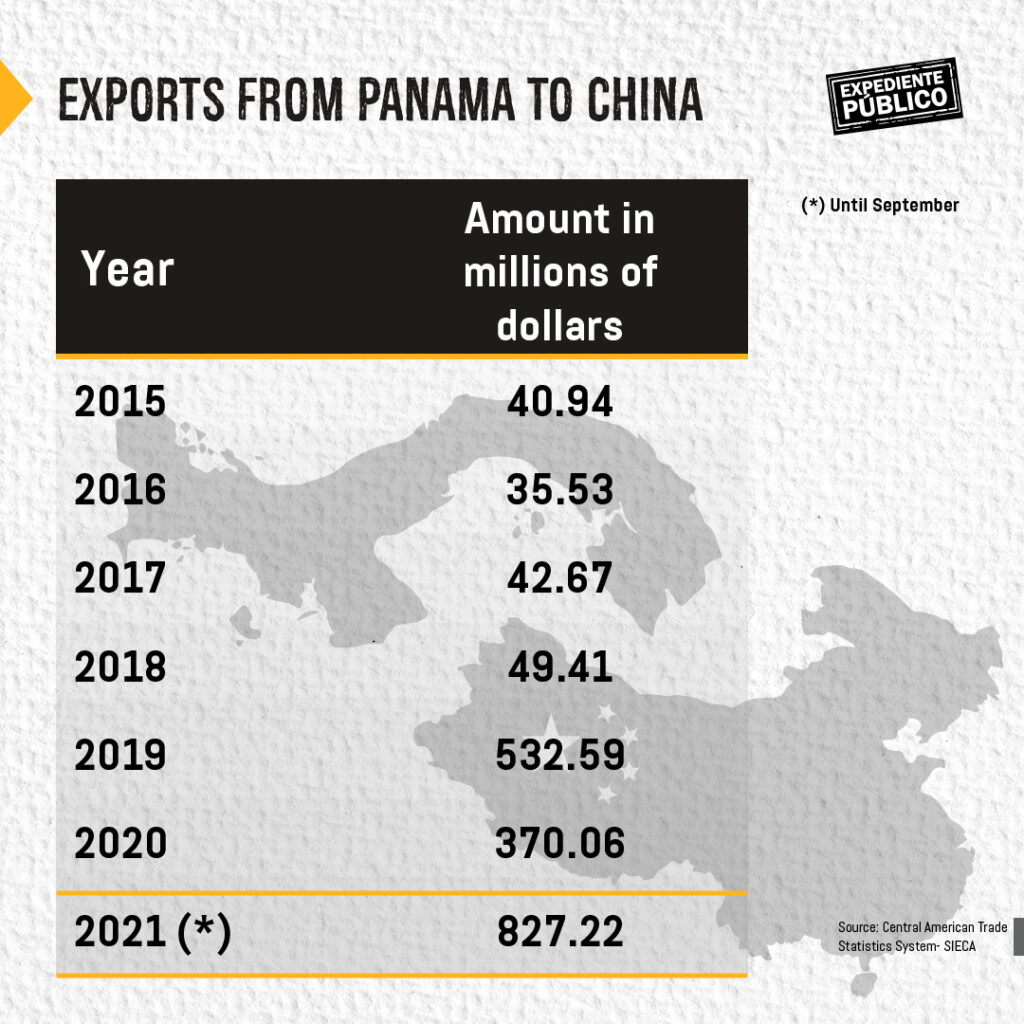 A third of Panamanian exports go to China, making it the country's largest export destination. Panama receives 11.27% (cumulative to September 2021) of its imports from China.
Lack of transparency
Illueca explains that relations between Panama and China flourished quite rapidly in the initial period, but with the new administration – of the current president Laurentino Cortizo – they entered a cooling period and "there was a sort of separation between the Republic of Panama and the People's Republic of China."
This distancing was reflected in the treatment afforded to two large projects; construction of a fourth bridge over the Panama Canal and construction of a convention center, both awarded to Chinese companies.
These "projects attracted a fairly strong level of criticism in terms of their transparency, compliance, and corruption. Because of this, the new administration reviewed [both contracts] and proposed new alternatives when it came into office."
Read also: The Law of the «Far East»: Diverse Economic Interests have turned the Northern Caribbean into a Ticking Time Bomb
Illueca recalled statements made by the United States when diplomatic relations were established between Panama and China that "the relationship should be carried out with a certain level of caution, that we should be clear about the commitments we were acquiring and what sort of balance was going to be established in terms of bilateral relations."
Illueca recalled that due to the geostrategic position of Panama, there were certain special circumstances at the level of the bilateral agenda. For example, on important issues such as freedom of navigation.
"Panama must preserve its interests at a global level and that includes preserving the supply chain and freedom of navigation in all maritime routes of geopolitical interest worldwide," he explained.
"The particular feature of the Panama Canal, which no other maritime route has, is its political stability and the absence of armed conflicts around the canal," Illueca stressed.
A trio of concerns
For Illueca, the relationship with the People's Republic of China causes concern not only in international indices published by civil society organizations such as Transparency International but also because of the direct and intrinsic relationship among the issues of human rights, the fight against corruption, and democracy.
"When we establish this kind of troika between democracy, the fight against corruption and the protection of human rights, we realize that most Central American countries have a common understanding of these three concepts, an understanding that is not only common to the Americas, but to the entire world," says Illueca.
This marks "a point of inflection or separation from the People's Republic of China because, as has been stated repeatedly, they have an alternate understanding of what human rights mean, an alternate understanding of what democracy is and an alternate understanding of what transparency and the fight against corruption are. It is specifically these actions that could even be understood as revisionist; that could pose turning points in the relationship that China has with the countries of Central America," Illueca stresses.
A standard against corruption
Illueca admits that "Central American countries have very serious problems in the fight against corruption. It is precisely at least preserving a specific standard of what this fight against corruption is and what it consists of and the validity of human rights that is going to be fundamental."
For this human rights expert, "this must be a point that is non-negotiable with China. It was very important and fundamental for Central America because of what was fought for and what was negotiated, for example in Esquipulas, the reason why the Contadora group was created, which later became the Rio group; namely, to preserve a common understanding of democracy, human rights and the fight against corruption.