*The China Index elaborated by the organized Doublethink Lab shows how the People's Republic of China (PRC) looks to win influence at all levels of society in the countries where it has relationships.
**The more emblematic cases in the region reveal a powerful Chinese strategy that penetrates society at the government, academic, telecommunications, and security levels.
***Peru is the most relevant example in Latin America regarding the amount of Chinese influence that the Asian country has coopted from all sectors of society.
---
Expediente Público
The People's Republic of China (PRC) maintains a strategy to influence politics, the media, academia, the military, and the economy in the countries where it has relationships until reaching a level of influence in all sectors of society, according to the study, "The China Index" that analyzed data from 82 countries in nine regions from March 2021 to March 2022 and was presented last December.
The study is an initiative of Doublethink Lab, a civil society organization dedicated to studying the "malign influence" of Chinese digital authoritarianism. The methodology combines a diverse set of social, behavioral, and computational sciences to study campaigns of propaganda financed by the PRC that normally take the shape of massive psychological wars and operations of disinformation around the world.
The China Index is a reference tool that looks to improve global understanding of China's influence, particularly for academics, the media, civil society, and politicians.
The index captures the influence of the PRC in nine areas: academia, national politics, the economy, foreign relations, law enforcement, the media, the military, society, and technology. Each of these areas contains indicators that correspond to an observable phenomenon regarding China's influence and present comparable data gathered by regional partners through collaboration with local experts.
"For years, we talked about China's strategy to achieve influence, but we needed an index, a baseline upon which to discuss Chinese activities. So, we thought about an objective way in which we could send this type of message, which would say, China has influenced this region or country in these fields and in these ways," explains the Taiwanese academic, Puma Shen, who is president of Doublethink Lab and vice president of the Human Rights Association of Taiwan, in an interview with Expediente Público.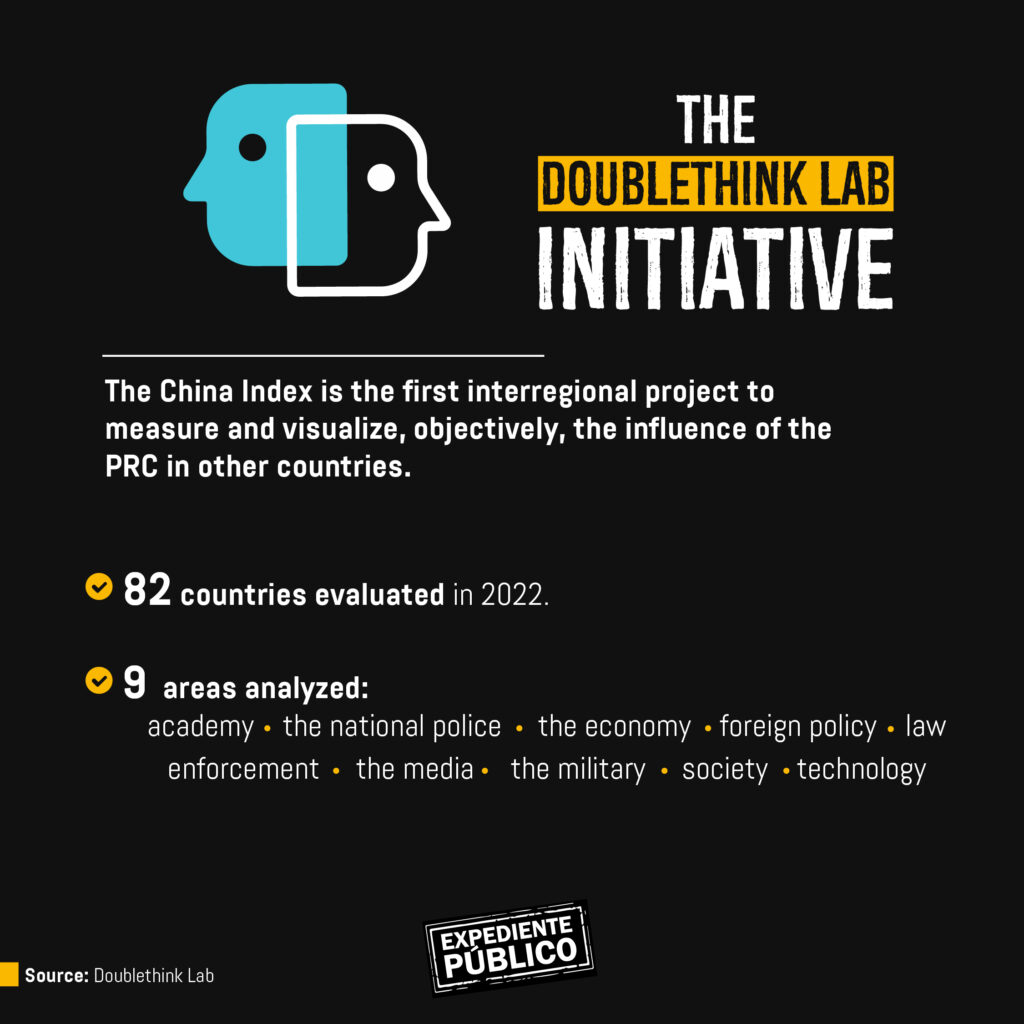 "It has to do with collaboration, creating public awareness, learning about Chinese interference around the world, trying to construct a counter-narrative, and seeing what we can do collaboratively in the future," Shen stresses.
Measuring the Index
The China Index recovered data from 82 countries in nine regions from March 2021 to March 2022. Doublethink worked with nine regional partners to carry out the research: The National Bureau of Asian Studies, Rayyan Hassan, Civil IDEA, Synopsis, Code for Africa, Andrés Bello Foundation, Centro de Investigación Chino Latinoamericano (Center of China-Latin America Research), Data Privacy Brazil, Balkan Investigative Reporting Network, and Martin Thorely. Doublethink also conducted research in various countries.
The regional partners and local experts are academics or professionals with experience in specific domains, independent or non-partisan reporters or investigators, groups of experts or civil society organizations, and community leaders. They do not work for nor receive compensation from a political party in index countries. The China Index employs a series of indicators based on facts to prove the existence of observable phenomena of Chinese influence. Moreover, local experts must provide concrete evidence when vouching for the existence of evidence of Chinese influence. The overall scores are determined by summing up equally weighted responses for all indicators.
The majority of the indicators measure countries' exposure to Chinese mechanisms of influence, e.g., economic dependency, collaboration, or receiving some sort of benefit from the government. Some indicators ask openly about the pressure caused by these means of influence, e.g., threatening economic punishment to provoke or impede a political decision that could be averse to Chinese interests. Other indicators ask about the observable effect produced by mechanisms of influence or changes in decision-making to favor Chinese interests, such as the relaxation of trade regulations to facilitate investment from the PRC. The PRC chain of influence is one of causation that functions from exposure through pressure down to the ultimate goal or effect.

Swipe to see more information

Swipe to see more information

Swipe to see more information
The Top Ten
Among the ten countries that the China Index detects as hotspots for Chinese influence, there are eight Asian countries: Pakistan, Cambodia, Singapore, Thailand, Philippines, Kyrgyzstan, Tajikistan, and Malaysia. But there are two countries on the list outside of Southeast Asia and Central Asia: Peru and South Africa. According to the report, Peru ranks fifth and is tied with South Africa in terms of Chinese influence. Peru is the country that seems to be most coopted by China in Latin America, even more so than Venezuela and Bolivia, whose governments tend to align ideologically with the Asian giant. Venezuela takes 25th place and Bolivia holds 60th place in the China Index.
The Case of Peru
Peru is the Latin American country that has the highest levels of Chinese influence and ranked fifth among 82 countries evaluated by the report.
Peru has a score of 62 in terms of vulnerability to Chinese influence, where the maximum score is 100 regarding economic dependence on China or receiving some type of benefit from the PRC.
Since 1971, Peru and China have had diplomatic relations, and the Chinese have come to Peru to establish media outlets that belong to the Global Network of Chinese Media. Chinese influence is such that even the government news service, ANDINA uses the Chinese state news service as an important news source.
According to the report, in Peru, there are reporters, news outlets, and online influencers that have helped with campaigns in the media paid for by the PRC and have received training from the state media or entities connected with the Asian country.
There are also cases of "local media outlets wholly or partially owned by Chinese citizens or corporations and those that deliver cheap or free content provided by the Chinese state-funded media," the index explains.
The 2022 China Index also points out that "in Peru, there are news outlets that censor points of view that are critical of the PRC government."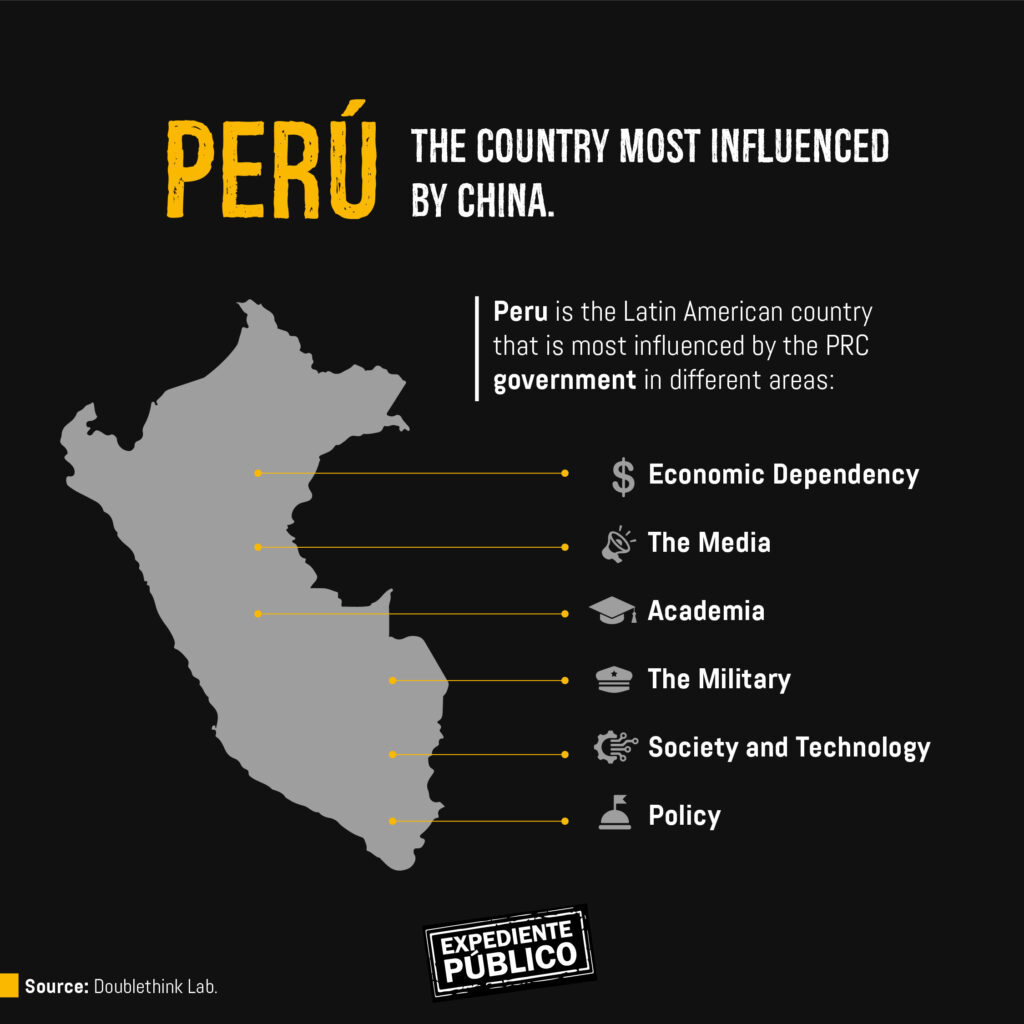 China's Reach within Academia
According to the 2022 China Index, in Academia, Peruvian universities have established investigative organizations with entities connected to the PRC, e.g., Huawei, Tencent, and Alibaba. They also actively work with the Confucius Institute, a state-run entity that promotes the Chinese language and culture.
In the South American country, there are even research centers that are part of networks and organizations affiliated with China, and it is not uncommon for academics to travel to China with tickets fully paid for by individuals or entities with ties to China. These types of entities connected to China have been involved in the design of Peruvian scholastic and university plans, such as courses about the history of Asia and its current politics.
Economic Dependence
The report notes that China is the number one trading partner of and primary client for Peru in its extractive industries. Moreover, entities with ties to China possess, operate, or control a substantial amount of the country's critical infrastructure, such as ports, power plants, digital data centers, and sensitive sectors, such as biotechnology and raw materials, among others.
"Peru has a free trade agreement with China and has relaxed or eliminated regulatory restrictions and established special economic zones or free trade zones to attract Chinese investments or economic participation," explains the 2022 Chinese Index.
Peru also joined the Asian Infrastructure Investment Bank (AIIB).
Military Influence
Peru's dependence on China also includes the security sector and its relationship with the Chinese military. Peru imports or receives in-kind donations like equipment for the Peruvian military and police officers, in addition to equipment components from the PRC. Moreover, the People's Liberation Army (EPL) has participated in humanitarian assistance efforts in the context of disasters, and the Peruvian military has received Chinese military education.
"Peru also cooperates with the EPL on military exchanges, including drills and exercises, and has implemented monitoring systems using video or internet created by the PRC to encourage compliance with the law," according to the 2022 China Index.
Peru currently holds an extradition treaty, mutual legal assistance, and other similar arrangements with China, and there are reports of cyber-attacks, which are suspected to have come from China, directed at the government, critical infrastructure, and companies in the South American country.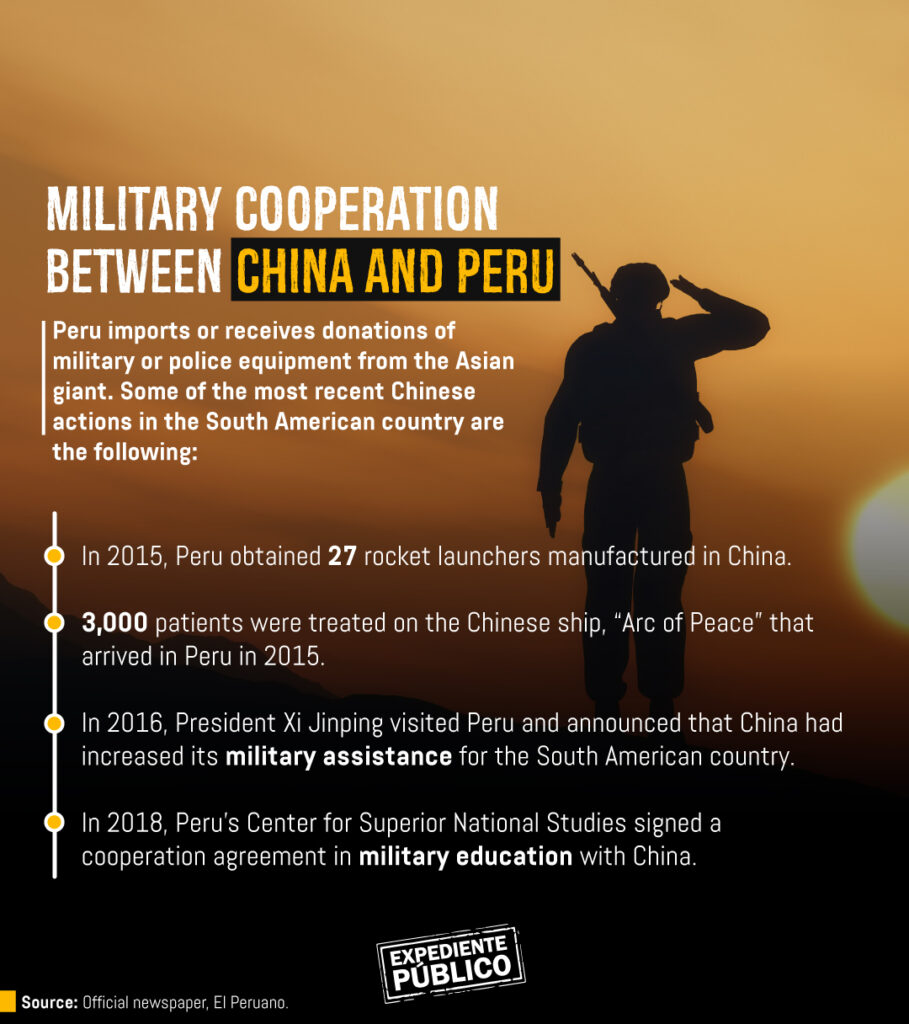 Political Influence
The China Index shows that politicians or public servants in Peru have traveled to China in a habitual manner through paid trips by Chinese individuals or entities, where Chinese public officials and groups of experts meet.
It is also common that the Peruvian government accepts training from the Chinese related to law enforcement and justice for individuals or entities with ties to China.
China also trains diplomats and public officials on good governance, and "there are reports of politicians or government employees who have been pressured by the PRC to change their political and diplomatic positions," according to the 2022 China Index.
Technology
Lastly, the China Index mentions that Peruvian telecommunications companies have signed agreements to adopt hardware and specifications for 4G and 5G cellular networks produced or developed by Huawei, ZTE, and other companies that pertain to the PRC.
"Peruvian telecommunication companies have adopted hardware and technical specifications from entities connected to China in infrastructure projects related to internet, WIFI, and telecommunications services, in addition to the 4G/5G cellular network," according to the report.
Entities with ties to China have even been authorized by Peruvian authorities to provide technology-related equipment or services to government agencies, the military, and security services.