*Honduras' decision to establish diplomatic relations with China, an authoritarian regime not committed to human rights, is worrisome.
**The experience of other Central American countries has been a lack of follow-through by China on investment promises.
***Analysts like Alonso Illueca, an expert in international law, recommend that the Xiomara Castro administration consider the dangers of maintaining ties with a system that does not respect democratic principles.
---
Expediente Público
Honduran President Xiomara Castro's order this week to establish relations with China raises concerns about the influence that this major power will have on the region and the political and economic consequences for this Central American country.
"I have instructed Foreign Minister Eduardo Reina to begin the opening of official relations with the People's Republic of China as a token of my determination to fulfill the plan of government and expand the borders with freedom in concert with the nations of the world," Castro wrote in a tweet.
Curiously, the message does not refer to Taiwan, a country with which Honduras has enjoyed more than 80 years of diplomatic relations, which would be affected by China since the Asian giant demands that its allies break ties with the island.
One of the first reactions from the Foreign Affairs Ministry of Taiwan was warning Honduras "to avoid falling into China's trap" and reiterating its desire to continue being a "sincere and trustworthy partner."
US senators criticize the move
US senators showed their concern for Castro's decision. The Chairman of the US Senate Foreign Relations Committee Robert Menendez posted a tweet stating that "as China continues its campaign to peel off Taiwan's diplomatic allies, Honduras' decision to align with Beijing will have implications lasting long beyond the current leadership."
In the same thread, he urged Honduras to "be diligent in protecting their sovereignty and human rights even as they deepen relations with one of the world's most autocratic regimes."
Meanwhile, the US Republican Senator for Louisiana Bill Cassidy warned that "Honduran President Xiomara Castro is moving her country closer to Communist China while the world is moving away. The Honduran people will suffer because of her failed leadership." This is the most radical shift in foreign affairs for the Honduran government so far.
"The idea is obviously to search for mechanisms to improve investment, trade, [etc.] If we have risen to power, it is to do good things for Honduras and for that reason, we must look for ways to better benefit the country using all the countries in the world. In this case, China is a reality for us, as we must look for opportunities for the Honduran population," Foreign Minister Enrique Reina said on a television show that aired on March 14.
For several analysts consulted by Expediente Público, the narrative of commercial opportunities is part of the process by which other countries have become close with China. However, these promises never become reality.
Read: Ausencia de Honduras en Alianza para la Prosperidad la aleja más de Estados Unidos
Honduras compromises its values
The establishment of diplomatic relations between two sovereign states should not be worrisome, said attorney and specialist in international law, Alonso Illueca in an interview with Expediente Público.
But in the case of Honduras and China, "causes for concern are the possible implications and negotiations that happen behind the scenes and the types of principles or values that are being compromised."

Swipe up for more information

Honduras, which is part of regional organizations like the Central American Integration System (SICA in Spanish) and Iberamerican organizations like the Organization of American States (OEA in Spanish), should be clear about the values of the inter-American order.
Democracy first
These principles are democracy, respect for human rights, and transparency, according to Illueca. For Illueca, Honduras is a manifestation of the constant struggle for the realization of these values and principles.
The specialist in international relations remembered that the Mission to Support the Fight against Corruption and Impunity in Honduras (MACCIH in Spanish) began its work in 2016 and was important for the Honduran people in terms of confronting the issue of corruption in the country.
Illueca went over the gradual process of recognition of human rights that the country experienced, including the period that it was under military rule beginning in 1978 and extending into the 1980s, a "tragic and traumatic" time for the population.
Moreover, there was a coup d'état on June 28, 2009, against then-president Manuel Zelaya, which meant a step backward regarding respect for democratic institutions.
"They know what it is like to have a system alien to democratic principles" and recognize "the concerning part" about a system that condones or facilitates corruption. "In this sense, much of what new diplomatic relations with China implies is a compromising of values and principles," something that should be considered by the Honduran government, the business class, and civil society, he said.
Precisely, one of the mechanisms of intervention used by China, as explained by Expediente Público in a special series, has to do with corruption, one of the main ways in which the Asian country takes advantage of national realities to reach politicians, even going so far as to bribe them.
Read: China y sus niveles de penetración en tres países de Centroamérica
Are there really any commercial benefits?
Honduras already has "a fruitful relationship with Taiwan," even though it "imports many things" from mainland China, said Robert Ellis, professor and researcher of Latin American Studies at the Institute of Strategic Studies at the US Army War College, to Expediente Público in an interview.

Swipe up for more information

The question is whether Honduras can maintain commercial relations with both countries since countries that recognize China "generally lose the ability to trade with Taiwan," he said.
An important question that Ellis plants is if it is possible for Honduras to increase its exports, "as China always promises," by making this diplomatic shift, or if it is only possible to increase the country's imports.
Ellis, who in another publication referred to the broken promises of China using the COVID-19 vaccines as an example, remembered that in 2022, Honduras exported and imported quantities worth eight million USD and 1.6 billion USD, respectively.
"When one looks at the cases of Costa Rica, Panama, El Salvador, and the Dominican Republic, these countries have always, with some exceptions, expected to sell more coffee, fruit, and traditional products than what has usually happened."
How has China invested in Honduras?
Although Taiwan does not make big promises, such as the Patuca II Project, to its partners, the type of assistance that it gives is more appropriate for the local market of the beneficiary country. "Regarding mainland China, sometimes things work more to the country's own benefit," said Ellis, "and so losing those Taiwanese assistance programs would be another hit [to the economy]."
The Patuca Project III began in 2011 with funding from the National Company of Electric Energy (ENEE) and the Chinese state-owned ICBC Bank. It was executed by the Chinese company, Sinohydro, tied to Power China, which is also state-run.
Sinohydro was also in charge of constructing the hydroelectric plant, Coca Codo Sinclair in Ecuador, which was accused of hiding information since 2012 about some eight thousand fissures in the dam. Patuca III, a project that was marked by protests showed poor planning, as well as high pricing of certain works and services, began operations in 2020, having experienced more than a two-year delay.
Will Honduras beat China at its game?
In relationships with China, the country at hand loses "the ability to make rational decisions, have a sustainable policy with regard to the environment and social guarantees, and maintain a sovereign economic policy," Ricardo Ferrer Picado, an analyst on strategic security and researcher at the Center for a Secure Free Society, told Expediente Público in an interview.

Swipe up for more information

Swipe up for more information

Swipe up for more information

Swipe up for more information

China, represented by the Chinese Communist Party, "is not a democracy but an autocracy where power is exercised" and has no history of healthy relations with zero negotiation capacity, as is the case of Latin American countries in general, added the Argentinian expert.
In the case of Honduras, its relationships are legitimate as long as there is respect for national legislation. "Now, if China makes the Honduras legislature comply with its demands or products, to introduce, for example, environmentally damaging batteries that it wants to get rid of, we would be looking at a violation, which would be wrong, and it is very likely that this and similar cases will occur."
The Argentinian analyst adds that the Chinese "are accustomed to coopting their 'political operators,' financing small gestures, extending invitations to them, treating them like extraordinary individuals and kings, and even bribing them with corruption, all of which have repercussions for the capacity of a state that [essentially] mortgages its future generations."
The principle of non-intervention
Most Western and American states that abide by the principle of non-intervention in the internal affairs of states understand that this does not include violations of democratic systems, human rights, or large acts of corruption, explained the Panamanian analyst, Alonso Illueca.
But China tends to see the complete implementation of the non-intervention principle, even regarding sensitive topics, and does not criticize those who commit human rights violations or acts of corruption.
That said, "if you have a partner who does not criticize you or tell you what to change and only offers you assistance without any type of requirement on sensitive topics in which the State should improve, the country will unconsciously favor, in one way or another, the partner who does not require a certain criteria of behavior in exchange [for economic benefits]," he reflected.
This posture, for example, fits in with the "liberal narrative" that the Castro Government "hates civil liberties and democratic governments" and never condemns human rights violations in Nicaragua, Venezuela, Brazil, or Argentina," said Ferrer Picado.
Reciprocatively, China is "totally content" working with dictators who buy technology to monitor dissidents, Matt Schrader, advisor on Chinese affairs for the International Republican Institute (IRI), explained at a forum in mid-2022.
Read: China y sus niveles de penetración en tres países de Centroamérica
China is getting more dangerous every day
China is becoming more dangerous and aggressive each day, "sending fighters and warships and crossing to the line in the middle of the Taiwan Strait," said Robert Ellis. China is sending spy balloons over nuclear plants and US military bases, in addition to "invading air space in Central America."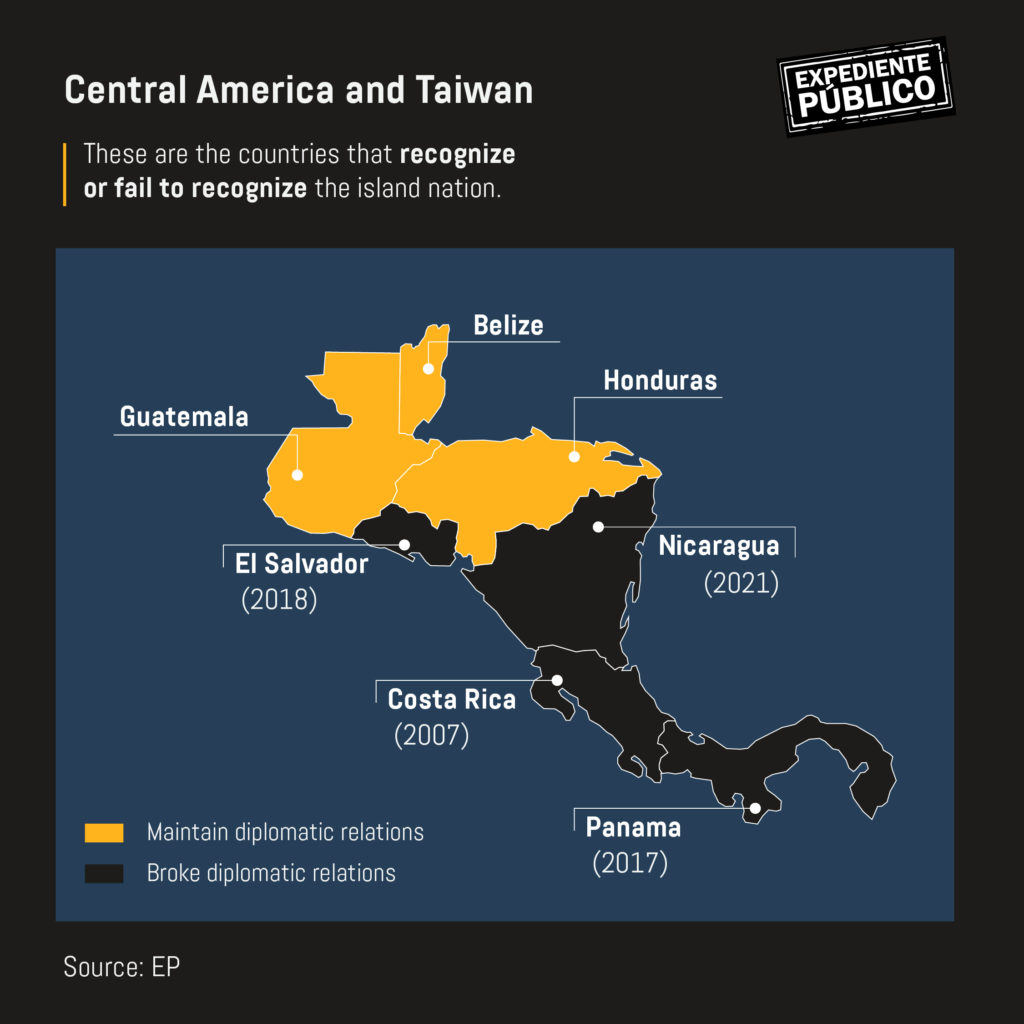 In this context, Honduras' shift in foreign policy to recognize and collaborate more closely with China "could communicate certain democratic or undemocratic tendencies, particularly of the Libre Party (incumbent)" and regarding where the government is headed, said Ellis.
For the American researcher, "what is happening in Brasilia constitutes more than just a conversation" between Foreign Minister Reina and Foreign Vice Minister Xie Feng; "it is a series of steps that the Central American country is taking that could prove worrisome."
However, "I do not see" establishing a relationship with China "as the end of the world," and the US will look for common ground with the Xiomara Castro Government.
"When I look at the tendency of Latin American governments of the left, it seems to me, and surely to US President Joe Biden, that this issue is not about left versus right but rather, is about democracy and the path toward good governance and decisions," he said.
Why is Honduras Important for China?
For Ferrer Picado, Honduras is very important to China, just like any other Latin American country, because it makes up what is disparagingly known as the US' backyard.
China is very interested in interrupting what the US has traditionally considered its zone of influence, Illueca pointed out. A Chinese relationship with Honduras would represent a significant advance in this process of establishing a robust presence in the region.
Moreover, the region is a corridor for massive migrations, which are "many times supported and begun in Latin America, such as the Venezuelan migrations," as well as the migrant caravans. It is also a region where the Chinese can try different policies in the largest countries in Latin America like Mexico, Argentina, Colombia, and Brazil, considered Ferrer Picado.
Honduras could even function as an important link for other countries in the region and strengthen Chinese policy in Central America and the Caribbean to disseminate across Latin America, "which will have effects on international votes" in the OEA and the Security Council of the United Nations.
Taiwan almost loses its place in Central America
"Imagine a Honduras that votes in favor of Cuba, Venezuela, or China in the wake of human rights violations, or even one that refuses to vote or abstains from voting," expressed the Argentinian expert.
It is important to add that Honduras would be the last or one of the last steps in diplomatically isolating Taiwan from Central America, mentioned Illueca.
"It is pretty evident that China has invested a considerable amount of political and diplomatic capital" in improving its relationships with other Central American states and in general with different countries across the hemisphere. "The reality is that the People's Republic of China is an important actor on the global stage," said Illueca.
"At the same time, China is an actor whose end goals are not completely understood by the world, but that can sometimes be seen as contrary to democratic and humanitarian views favorable to human rights and transparency, which distinguish Honduras in the Western Hemisphere and particularly, in the Central American region," he said.
Chinese cooperation involves hidden end goals, which "could be detrimental to Central American countries because we are not in a position of equals but rather have the lower hand in terms of negotiations" with China, Illueca added.